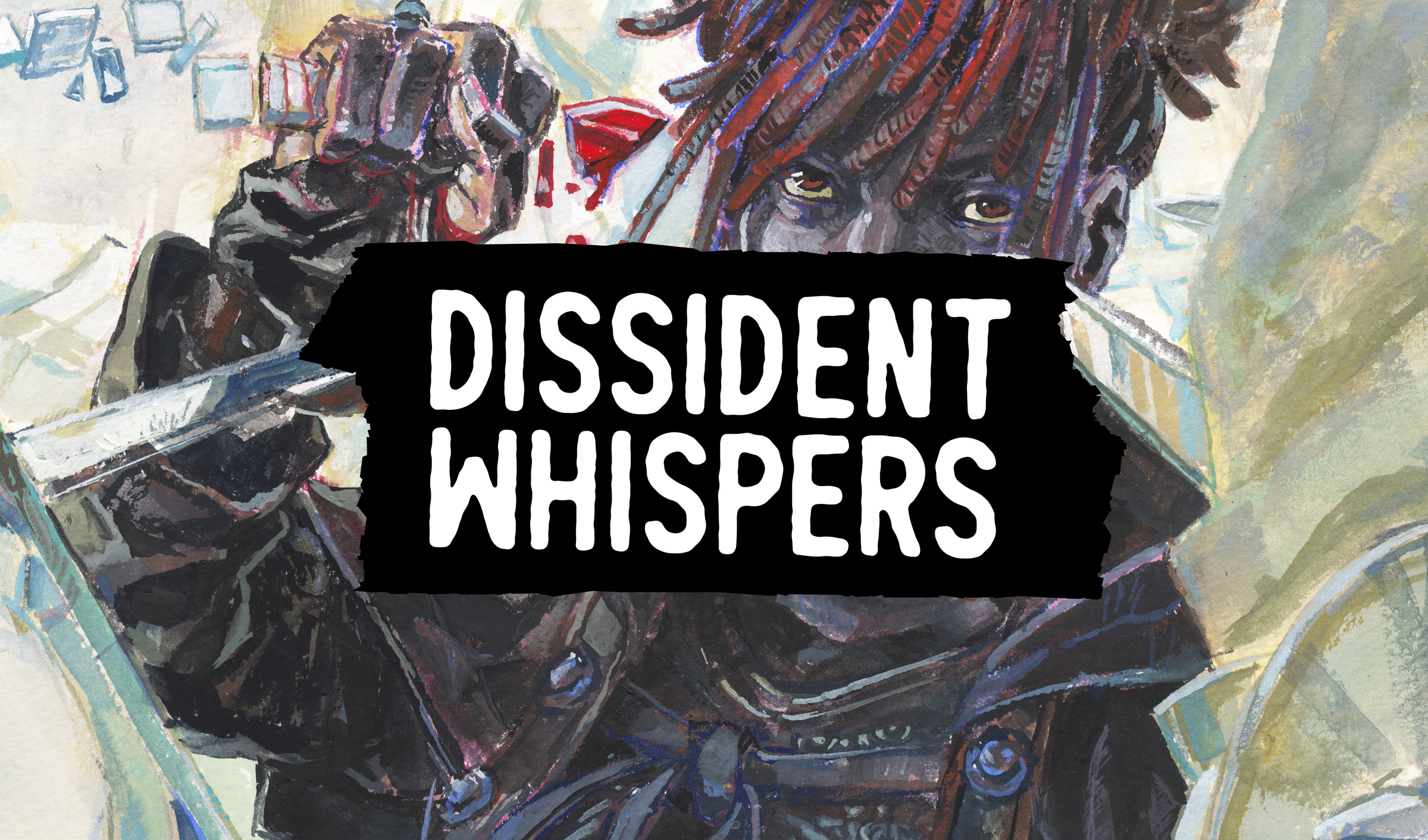 Dissident Whispers
A downloadable adventure anthology
An anthology of 58 original two-page RPG adventures made by a diverse, international collective of creators in support of the Black Lives Matter movement.
All proceeds go directly towards the National Bail Fund Network.
Tuesday Knight Games is also taking pre-orders for a physical print run. Tune into TKG and Dissident Whispers social media channels for updates.

Delve into mythic underworlds, shiver through haunted space ships, schmooze with high society. You'll never go unequipped for game night with this eclectic host of adventures in hand.
Adventures for Mothership, MÖRK BORG, Trophy Gold, Troika!, Electric Bastionland, Dungeon Crawl Classics, The Ultraviolet Grasslands, The Black Hack, Mausritter, B/X, 5e, and many System Agnostic scenarios.
Cover by Jabari Weathers
Introduction by Laura Simpson
Created by a team of 90 authors, designers, editors, and illustrators including…
Writing by Chris McDowall (Electric Bastionland) and Luke Gearing (Fever Swamp)
Layout by Johan Nohr (MÖRK BORG) and Sean McCoy (Mothership)
Art by David Hoskins (Astonishing Swordsmen & Sorcerers of Hyperborea), Evlyn Moreau (Fabulous Mini Guild, Chromatic Soup) and Doug Kovacs (DCC)
Black Lives Matter.
Featuring the tireless efforts of:
Abigail Lalonde, Adam Bell, Adam Umak, Alan Gerding, Aled Lawlor, Anthony Franchini, Anthony Ronda, Benjamin Foster, Benjamin Wenham, Bob Holt, Brian Maikisch, Brian Stauffer, Charlie Tee, Clément Vernet, Dave Sokolowski, David Cowan, David Hoskins, David Koslow, David Lombardo, David Wilkie, Derek Kinsman, E. K. Hill, Ed Lynden-Bell, Élina Leblanc, Emanoel Melo, Evlyn Moreau, Fiona Mcloughlin, Flora van den Berg, Ford T. Miller, Grant K., Gwen Howard, @haunted_idol, Hazardousfish, Horatio Hellsing, Ian Yusem, Irvin Harvey III, Izzy B, Jacob Butcher, James Holloway, James Millichamp, James Mosingo, Jamie Montgomery, Jarrett Crader, JC Franco, Jeremy Childrey, Jerry LeNeave, joey richards, Johan Nohr, junkgolem, Kat Welsford, Lex Smirnow, Liam Stevens, Lon Prater, Louis Puster III, Luke Gearing, Madeleine Ember, Matt Umland, Matthew Getch, Matthew Johnson, Max Verbludenko, Melissa Chaplin, Michael Harmon, Mill Wistman, Milt Wistman, Natalie Ash, Pablo Dapena, Patrick Farrell, Peter Rudin-Burgess, RaeRae, Reece Carter, Ribston Pippin, Rolland, Roque Romero, Sam Zeigler, Sasha De'ath, Sashah Li, Scott Wegener, Sean McCoy, Sean Murphy, @skullfungus, Vi Huntsman, vil, Wayne Snyder, and Zac Bir.

Purchase
In order to download this adventure anthology you must purchase it at or above the minimum price of $20 USD. You will get access to the following files:
dissident whispers-v3.pdf
66 MB
Comments
Log in with itch.io to leave a comment.
Got a physical copy of this and it's absolutely phenomenal. Beautiful book with a ton of quality content.
This says "pre-order" at the Tuesday Knight website - is that just for the physical copy?

This looks great!
There's now an answer to this on their site. Seems like the physical is pre-order and the PDF is available, with a slight delay of 24 hours or so as of now.
While I may be biased (being a contributor to this anthology), this is one of the best adventure anthologies I have ever seen. The quality of content, the level of creativity, the unparalleled artistry make this book an incredible artifact. It is worth well-more than the asking price, so you're getting quite a bargain, and putting money to a good cause.
I wanted the physical book, but Tuesday Knight Games doesn't ship to China. : (

Have you tried Melsonia? They're UK based but I ordered there to ship to Australia.